Climate change is, according to UNESCO, among the most important threats for the World Heritage Sites. In line to the above, the European Commission has also recognized the urgent need to protect its tangible and intangible heritage from the impacts of climate change whereas the International Council on Monuments and Sites (ICOMOS) has urged for action so as to ensure the future of our past.
Protecting the archaeological sites and monuments from the impacts of climate change is a central priority for Greece; to this end measures and plans are drafted mostly at the precautionary level and with a clear scope to support the adaption of archaeological sites and monuments to a number of evolving climate risks. At a second level, the protection of archeological sites and monuments sustains their importance as tourist destinations and enhances regional development.
The objective of the CLIMASCAPE project is to develop a multi-criteria system for the adaptation of archaeological sites to such impacts of climate change as extreme weather events and floods, forest fires, drought and erosion, heat waves and sea level rise.
For the system to be developed, an assessment of the climate change impacts for the period 2046-2065 is made with the use of regional climate models as downscaled at 12.5 km x 12.5 km grid resolution; in addition, such parameters as sensitivity, exposure, adaptive capacity and vulnerability to climate change are estimated in view of selecting the most appropriate adaptation measures per climate risk.
Although the system is developed for eight archaeological sites as included in the World Heritage Catalog of UNESCO (Philippi, Hereon of Samos, Delos, Epidaurus, Mystras, ancient Olympia, Sanctuary of Apollo Epicurius and Delphi), special consideration is given for its high replication potential.
The CLIMASCAPE project is an interdisciplinary research program that attempts to contribute to the protection of archaeological sites from the threats of climate change through the triptych "prediction – detection – management".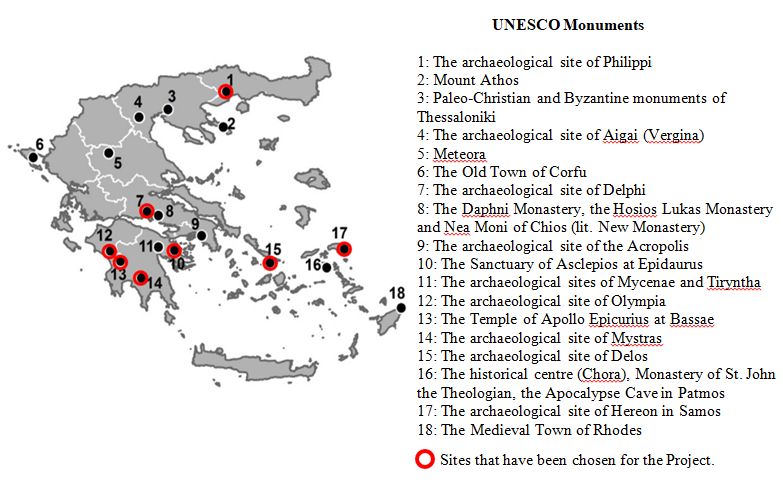 Eight archaeological sites that have been inscribed in the UNESCO World Heritage List, the archaeological sites of Philippi, of the Hereon of Samos, of Delos, of Epidaurus, of Mystras, of ancient Olympia, of the Sanctuary of Apollo Epicurius and the site of Delphi, have been chosen for this proposition to be applied upon, with the prospect of setting an example also for future projects that will promote the preservation of other monuments and sites.